SNP Member of Parliament for Stirling
SNP Europe and EU Accession Spokesperson
One In Four Risk Christmas Debt; Workers Face £10,0000 Living Standards Gap Stirling MP Alyn Smith has urged further action on the economy from the UK Government, as two consecutive reports reveal the UK's dire …
Relief Needed for Retail, Hospitality and Leisure Sectors Local MP Alyn Smith is calling for urgent support to retail, hospitality and leisure businesses across Stirling, as economic anxieties mount ahead of the festive period. The …
MP Survey Finds 76% with Concerns Over Speeding Local Stirling MP Alyn Smith has backed efforts to improve road safety in Thornhill, after a survey of residents found three-quarters of respondents remained concerned with speeding …
SOCIAL CHANNELS
Join Alyn Smith Online
Alyn is very active across Social Media and it's a great way to keep up with what is happening across the Stirling Constituency and at Westminster.
Below you'll see links to the various channels and we'd ask you to like, follow and share as much as possible. Thank you.
Green Hosted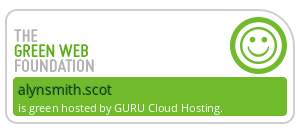 Datacentre uses 100% green sourced power as specified by E.ON and as regulated by Ofgem.